We develop all manufacturers' 35mm, 120, 220 and Advanced Photo System color print films. Plus…all E-6 process slide films as well as 35mm and 120 black & white films.
Your film will always be processed and printed to the highest professional standards.

How To Order:
35mm Film Processing
The easiest way to submit film to us is by using one of our convenient, postage-paid film mailers. Our mailers give you a convenient order form, listing our standard processing services, prices and delivery options.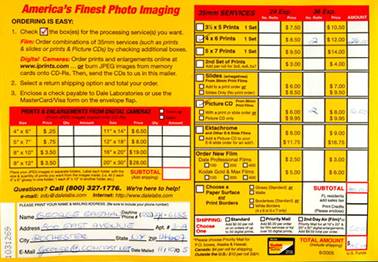 To request a supply of mailers and our complete price list, please click here or call our Customer Service Department at (800) 327-1776.
If you don't have a mailer and want to order processing now, please click on one of the links below for the appropriate order form … complete with instructions…that you'll be able to print-out from your computer and mail to our laboratory with your film:
Standard Film Processing and Enlarging Services
35mm Film Processing Order Form For Color Print and Slide Films
Advanced Photo System Order Form
Reprints, Enlargements and Giclée Prints From Film
Professional Processing and Enlarging Services
120/220 & 35mm…With Special Enlarging Prices For Wedding & Candid Photography
Print out the form on your computer and send your 120 or 220 film to us in either a film mailer (between cardboards) or in any secure box.
To Mail In Orders:
1. Use one of our film mailers. You can safely send up to six rolls of 35mm film in their protective plastic cans. Click here to receive a supply of mailers.
Or…
2. Send your film in to our laboratory via FedEx, DHL or UPS.
If You Live Outside the United States...
Film Processing –
We can process your film…and give you our outstanding quality and special services…no matter where you live. International air mail service is quick and reliable. Credit cards have eliminated virtually all financial barriers and exchange rate problems. Shipping is just $10 per roll over our regular U.S. price and…with our low cost replacement film…you may actually save money by not having to buy imported film in your home country. (Canadians pay just $4 more)
Prints and Enlargements From Digital Cameras –
By ordering online at www.iprints.com you have no barrier to getting professional-quality prints and enlargements from your digital camera. We'll ship your completed enlargement orders to you the day after you place your online order (Monday - Friday). Simply pay the additional $10 per order cost to cover postage (which will be computed by our iprints.com site) and you'll be receiving the best digital prints and enlargements America has to offer!