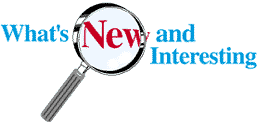 Black and White "Chromogenic" Films -
A Quiet Revolution
Black and white has been here since photography began. With the advent of color, though, most black and white photography was done by avid enthusiasts who would spend long hours processing negatives and making enlargements in their home darkrooms. Getting processing from commercial laboratories...most of whom specialized in color...was frustrating. Either the service wasn't offered for B&W films, was a lot more expensive than color or simply wasn't the professional quality that good black and white photography demanded.
About 20 years ago, Ilford introduced the first chromogenic film, XP1. This film was designed to go through a color film process and produce a roughly "neutral" dye image (as opposed to a silver image on conventional B&W films). The dye images could be printed as black and white on B&W paper or with a slight color hue on color paper. Later, Ilford improved their film with the introduction of XP2. They pretty much had the chromogenic film field to themselves; until now.
Kodak took note of the increasing popularity of black and white and the need to provide high-quality, easily available processing for the people who wanted black and white pictures. Their research people up in Rochester came up with a wonderful new chromogenic film called T400CN. This ISO 400 film, like Ilford's XP2, has a lot going for it that may be good for you.
---
As C-41 process films we can process both T400CN and XP2, giving you professional quality control. By the time you factor in the time required plus the price of black and white developer and fixer, we can probably do the processing for less than it would cost you to develop black and white yourself. The negatives we process can be enlarged on black and white paper in your home darkroom. Or, we can make enlargements for you on color paper, producing pleasing "sepia"-colored monochromatic prints.

Chromogenic films are far more forgiving to variations in exposure than conventional black and white films. With their dye images, they also have a much finer grain structure.

Proofs made from chromogenic films on color paper normally have some sepia coloration. Most of our customers find them aesthetically acceptable (even preferable to a totally neutral black and white). Kodak claims that their new film (T400CN) has a special base density that will help tonal reproduction on both color and black and white paper.
---
Any processing service we provide for color print films...prints, slides, Photo CDs, Picture CDs or enlargements...can be ordered from either XP2 or T400CN. The price is the same as for our color processing service.
If you'd like to experiment with black and white...and avoid the hassle of developing the film yourself...either of these two fine films are for you!
For information on mixed panoramic processing and printing...Click here.